Holy Communion is the sacrament where bread and wine are used to recall Jesus' last supper with his friends (Matthew 26:20 - 29; Mark 14:17 - 26; Luke 22:7 - 23; 1 Corinthians 23 - 26).
In the Church of England, Regulations made under Canon B 15A (1.c) allow children who have been baptised but who are not yet confirmed to be admitted to communion. About 18% of Anglican parishes now follow this practice, and many others are considering it.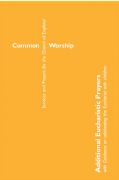 There are now two Additional Eucharistic Prayers authorised for use when a significant number of children are present.